Green thumbs need great equipment to get the job done. Whether you're installing a water feature on a commercial property or doing a weekly mow in a residential neighborhood, you rely on landscape equipment to create highly satisfied customers who are happy to refer you to others.
Check out these equipment ideas to streamline efficiency so you can rock your landscaping jobs.

1. RB3000 Trailer
The Equipter RB3000 landscaping trailer dramatically streamlines debris and material handling for professionals. The unit tows to the job site like any other landscape trailer—but that's where the similarities end. Simply unhitch the RB3000 trailer and engage its reliable engine to drive the container virtually anywhere on the property. This equipment gives you:
4 cubic yards of space to haul dirt, materials, and tools.
Compact 6-foot wide unit to maneuver around tight residential and commercial properties.
Tight turning radius to navigate around buildings, shrubs, and other property features.
Hydraulic dump, hinged at the top and bottom, to deposit dirt, rocks, and mulch where you need it.
Rear stabilizers to allow you to unload on uneven terrain.
This Equipter model ideal for landscapers can be easily operated by one person, which means even small crews can get jobs done faster and more efficiently. And since the unit does the heavy hauling, it can reduce the amount of heavy manual labor landscaping crews do throughout the day, which may help lower lost productivity due to wear and tear on the body.
Click below to check out Equipter's collection of landscape equipment now.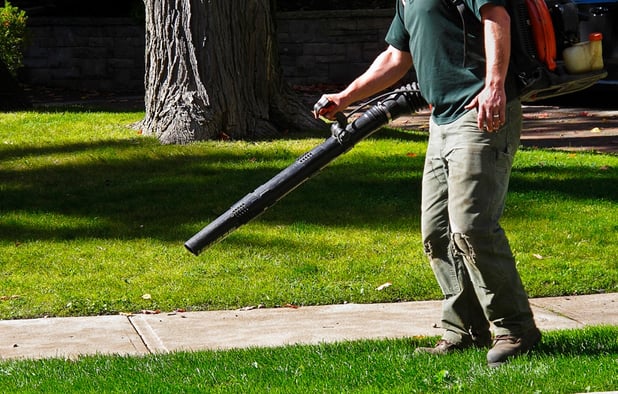 2. High-Quality Blower
From grass clippings to stray pebbles, landscaping can leave a mess on walkways, driveways, and parking lots. A good quality blower clears away the debris so you can leave a clean job site with the professional polish clients expect from their landscaper. Brands like Kobalt make high-powered blowers that quickly put debris where it belongs.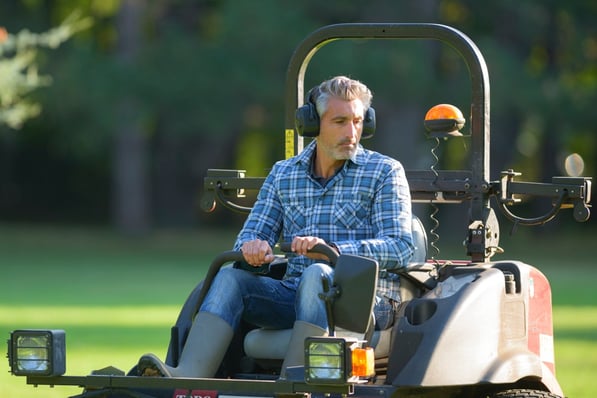 3. Self-Propelled Mower
This equipment for landscaping and lawn maintenance reduces the push factor that can weigh down you or your crew with extra effort. Commercial-grade self-propelled, zero-turn radius lawn mowers often include variable speeds and easy electric start to make operation seamless, giving you greater efficiency in your landscaping endeavors.
4. Wide-Area Mower
Big jobs call for big equipment, even for mowing. Wide-area mowers, which can range from 52 inches to up to 16 feet wide, are practically a must-have for managing commercial or agricultural properties or sports fields. For example, a mower with a 104-inch deck can mow up to 84 acres per day! Even smaller-sized wide mowers, like a 52-inch model, can eliminate 30 minutes of mowing per day.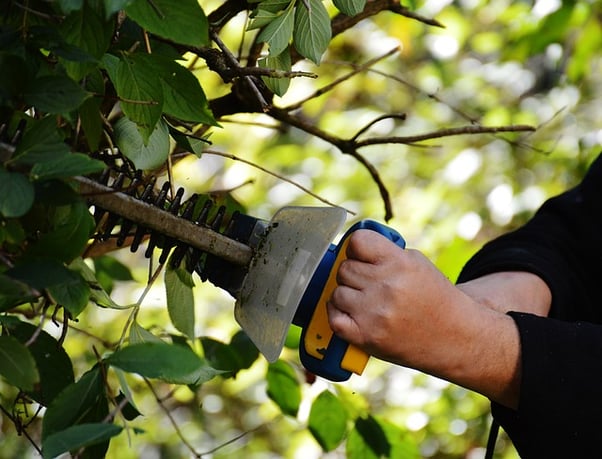 5. Rechargeable Hedge Trimmer
Don't waste time hunting for exterior electrical outlets when it's time to trim hedges. Cordless rechargeable hedge trimmers come in handy for many landscapers. As a bonus, a good rechargeable model can be quieter than gas-powered options, a factor that customers always appreciate especially in the early morning hours. The rechargeable trimmers tend to be lighter than their gas counterparts, too. Just don't forget to oil your hedge trimmer regularly.
6. Tool & Equipment Organization System
Build a foundation for easy access to the cutting, grading, and other landscape tools you need by creating an organizational system for company vans, trucks, and trailers. From custom trailer racks to locking racks to enclosed trailer shelving, you may need to experiment a little, but a good system will pay off when you're not stuck hunting for that dandelion tool with a lanyard that got tangled in one of the rakes again.
Landscape crew efficiency is one of the best ways to keep your landscapers happy at work and create customers willing to refer you to their friends and family. The best landscape equipment, like the RB3000 trailer and wide-area mower, will streamline your processes and help build your success.