Dented HVAC units. Smashed bushes. Shattered bird baths.
Roofing is a messy job.
No matter how hard a crew tries to protect a job site, the risk for property damage is always present. Check out these tips to reduce the possibility of property damage so you can keep your business expenses lower and maintain a great reputation.
Use the right roofing tools.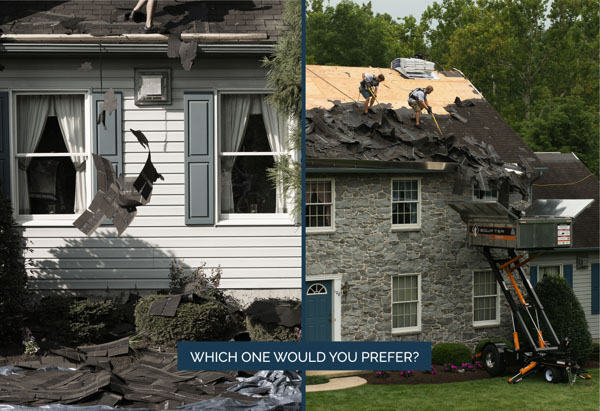 The dump trailer is considered go-to equipment for many roof replacement companies; however, it does little to help prevent costly onsite property damage. The Equipter RB4000, aka the Roofer's Buggy, is a specialized hydraulic container that makes it easier to safeguard homeowners' properties. As a result, roofers can spend more time replacing shingles and less time worrying about how to navigate materials around a client's prized wisteria. Here's how to help your crew and customers with this piece of roofing equipment:
Drive the container right up to the home.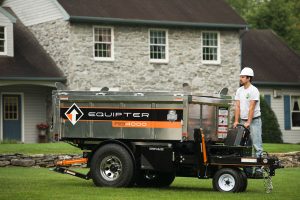 Unlike a conventional dump trailer, the RB4000 is powered by a gas engine, enabling a roofer to place it next to the home. This virtually eliminates the need to maneuver materials and debris to and from the building. Plus, this roofing equipment offers lightweight construction and wide tires to reduce the risk of leaving ditches in homeowners' yards.
Extend the container backwards over property features.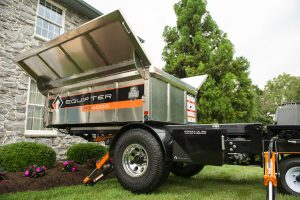 Can't get a container right next to the home because of a shrub or outdoor HVAC unit? The Equipter was designed with an extension roll-back feature, allowing employees to safely raise its container and extend it backwards over objects that would otherwise be in the way.
Raise the container to roof level.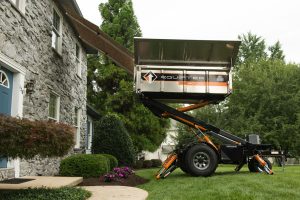 The Roofer's Buggy can be raised up to 12' high, so a crew can place the container right off the roof's edge. Your crew members simply place debris and scraps directly into the container instead of dropping them off the roof. This reduces the potential for shingles and other debris to drop onto expensive HVAC units or landscape features.
The RB4000 makes it easier to protect property, but it also helps make job sites safer. Learn more in The Roofing Safety Benefits of the Roofer's Buggy.
Enlist your crew to help reduce damage.
Roofing crews play an essential role in reducing property damage, too. Build a workplace culture in which all employees, from accounting staff to roofing crews, are focused on delivering an exceptional customer experience. For roofers, delivering that experience includes working to ensure property damage doesn't happen.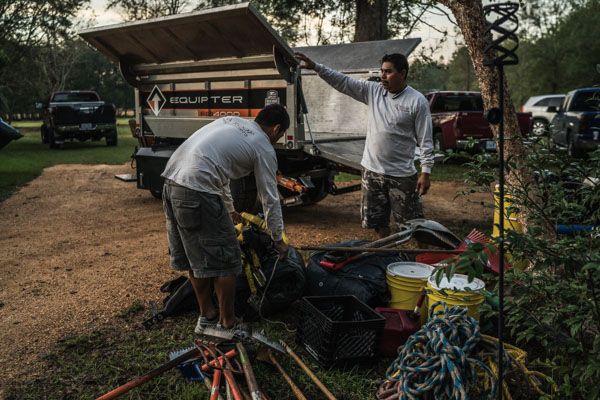 Start an ongoing conversation with roofing crews to highlight the importance of protecting customers' properties. Be open about how the costs of damage directly impact business success. For example, property damage increases costs and stains the company's reputation. Over time, these factors translate into fewer jobs for crews.
Bonus tip: Protect your company from damage claims.
Take proactive steps toward safeguarding your roofing business from groundless property damage claims. Liza Barth on the GAF ProBlog recommends inspecting the property before starting each job to reduce the risk you'll bear the blame for pre-existing damage. She also recommends that roofers take photos before, during, and after the project to document work.
Do you have questions about how using the right roofing tools will help you reduce property damage? Ask us a question online or contact an Equipter team member at 717-661-3591.