Roofing is a tough job—but by working smarter (not harder), you can become more efficient. In some cases, with the right equipment and processes, you can increase productivity enough to shave hours off each job. Check out this must-have roof replacement equipment that boosts productivity so you can build a healthier bottom line.

Tear-Off Shovel
Tear-off shovels, like this one by Bully Tools, are essential when you want to remove roofing tiles quickly. This commercial-grade model is made to help professional contractors get the job done. It features a reinforced fiberglass handle so it can stand up to daily use. As a bonus, it's lightweight enough that it won't weigh down your arms and shoulders. Quality tear-off shovels, like this one, can also reduce bending over, which reduces wear and tear on the body, especially during tough projects.

RB4000 Lift
Debris management is a big job, even on small roofs. Figuring out how to manage debris more efficiently can be the game-changer that makes you stand out from the competitive pack.
Our family, which owned a roofing company for many years, designed the Equipter RB4000 to do precisely that. It's a drivable, liftable container that allows roofers to easily deposit debris directly into the raised container rather than throwing it on the ground. When the container is full, simply lower it and drive the Equipter to a dumpster, truck, or trailer, where the equipment can be emptied via its hinged gate.
How does that translate into higher roofing productivity?
Far less debris, like old shingles or nails, on the ground for you to clean up.

Far less manual labor to raise new shingles up to the roof.

Far less wear and tear on roofers' bodies, so they stay more productive for longer periods of time.
And, for roofing in tight spots, we offer the even more compact RB2000 container, which offers streamlined debris handling like its big brother, in a size that's perfect for navigating city alleys, small-town neighborhoods, and other not-so-big worksites.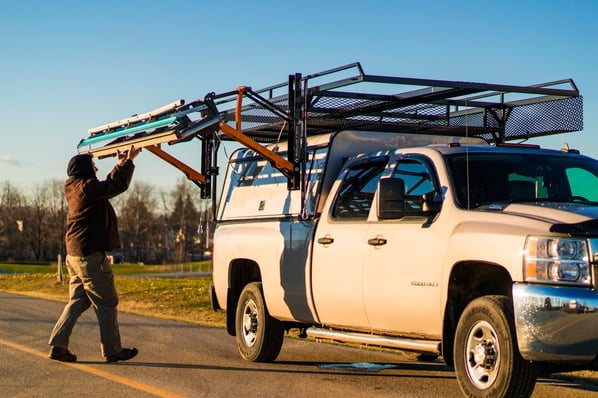 Stow-A-Brake System
When you need to craft flashing, wrap windows, or install fascia and soffit like a pro, the Equipter Stow-A-Brake system can increase productivity.
Unlike conventional brake systems, the Stow-A-Brake system takes only one person to operate. It easily mounts on a truck's ladder rack on the side of the vehicle, and it incorporates durable gas springs that lower and raise the brake in just seconds.
You or your crew members no longer need to struggle during setup and teardown. As a result, you can keep job sites running more efficiently. (Brake not included.)
Cordless Nailer
A no-hassle nailer is the ideal roof replacement equipment for getting the job done quickly and efficiently. Because it operates on a rechargeable battery—instead of compressor power—you save time during job site setup and teardown. Plus, a quality nailer alleviates the hand fatigue that can dog you during a long day of nailing on shingles by hand.
Roofing Productivity Apps
Not all equipment goes into a roofing tool box or gets hitched to a trailer. Shingle manufacturer GAF makes several industry-specific apps, such as Pro Roof Estimator and GAF Inspect, to streamline your workflow. Other companies make apps, too, so you can be more productive with everything from invoicing to measuring.
Build your bottom line with roof replacement equipment that helps you work smarter. Click below for a full list of roof replacement equipment from Equipter to help you get the job done sooner.