So what's your roofing equipment done for you lately? Traditional tools of the roofing trade—scissor lift trailers, hydraulic lifts, and hydraulic trailers—may make your job somewhat easier. But how would your jobs change if your roofing equipment was more than okay...what if one tool could save labor costs, drastically reduce material-handling hassles, and make homeowners happier?
Handling and hauling the two tons of shingles on an average residential roof isn't easy—even with mechanized tools like a hydraulic trailer or scissor lift trailer. Why? Because the fact is they just weren't made for roofers.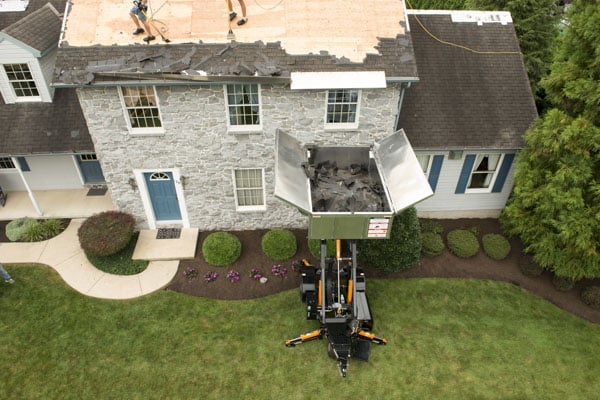 The Equipter RB4000 was designed for roofers by roofers, so it delivers all the labor-saving, hassle-eliminating benefits that the old standbys simply can't. How will it make your roofing jobs easier?
Save the landscaping: Ever find yourself explaining to a homeowner that their prized Japanese maple was accidentally mowed down by your crew? The RB4000 (sometimes called the Roofer's Buggy) offers a 4' roll-back extension, a landscape-saving feature that allows you to extend the container an additional 4 feet backwards, conveniently positioning it above plants, shrubs, and other features next to the client's home.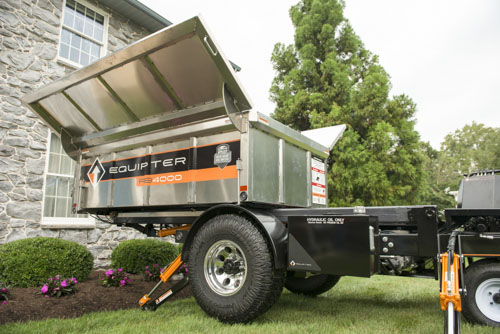 Extend your reach: The RB4000 container's hydraulics lift the rust-resistant lightweight container up to 12' high so you can position it directly under the eaves for easy debris removal. For extra reach, the Rear Extension Kit offers self-supporting rails that attach to the rear of the RB4000, allowing you to ramp one or two pieces of plywood to direct debris from the roof into the container.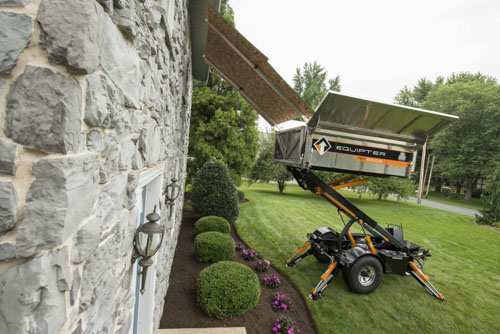 Manage debris: The Equipter container's doors ramp open on either side to create a 10.5' catch area that funnels roofing shingles and other debris directly into the unit. That means fewer scraps for you to clean up, and less trash for the homeowner to find in his or her flowers. The RB4000 makes debris management seem like child's play when compared to a scissor lift trailer or hydraulic trailer.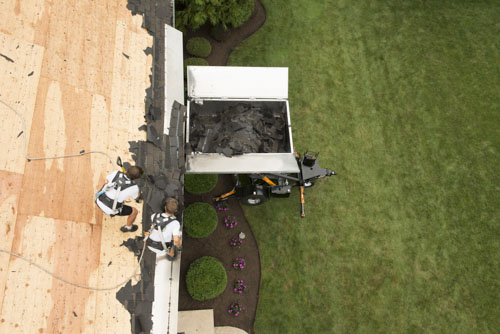 Eliminate onsite towing/wheelbarrow-ing: Stop the insanity of double-handling roofing debris. Drive the RB4000 directly from the home to a nearby dump trailer or truck via its gas-powered hydraulic drive system—no towing required on the job site—and use the easy-to-operate controls to let the hydraulic-operated tailgate down and dump the debris directly into the larger dump trailer.
What's the bottom line for you and your roofing crew?
Less time on the job, from start to finish. With an RB4000, you and your roofers spend less time navigating and manhandling onsite material and debris. Less material handling = More work with fewer crew members.
A cleaner job site that homeowners will love. Roofing clients love hiring roofers who use the RB4000 because it keeps the mess off their valuable property. Cleaner job site = Happy roofing clients = More referrals.
Residential roofing equipment like a hydraulic lift, hydraulic trailer, and scissor lift trailer may have been okay in the past. But when you want to save labor costs, boost efficiency, and make customers happy enough to refer you to other prospects, it's time to invest in roofing equipment that's more than okay.
How much will the RB4000 change the way your business does roofing? Learn 3 Reasons Roofing Employees Love the Roofer's Buggy. Then see the difference for yourself through Equipter's rental program. Find a rental in your area.