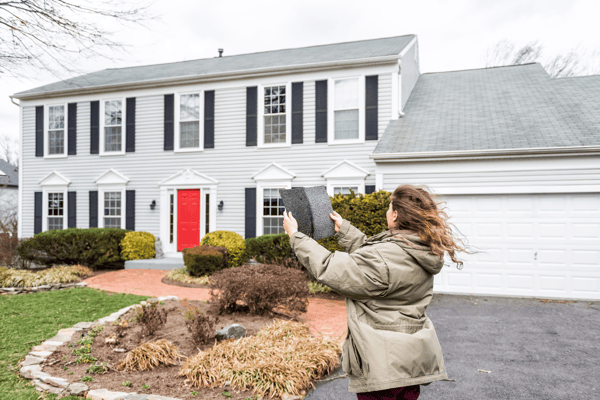 Being a professional residential roofer is easy–just deliver what your customer wants!
But how do you know what homeowners want?
Get into the mindset of your ideal customer. If you're a homeowner, think about what you would appreciate in a roofing contractor, how you'd like to be treated.
Take a look at these six easily achievable qualities to incorporate into your roofing company values and business practices.
1. Reliability
Reliability is key in any industry, but even more important when you're providing a service like roof replacement or restoration.
Here are a few suggestions on how to be a roofer that homeowners and property managers can count on.
Arrive on time every time.
One simple way to demonstrate true professionalism is to show up on time–or early–every day. It's just one way to show you're dedicated to completing the job on time. If you choose to arrive early, remember to be respectful of your customer's lifestyle. Make sure the doorway is clear when the kids are leaving for the bus stop or when your customer(s) may be leaving for work.
Never make a promise you can't keep.
Honesty is the best policy. If a situation arises that either holds up production or changes the job, like a conflict in supply availability or unforeseen damage not mentioned in the bid, do your research. Find a few potential solutions and bring them to your customer's attention immediately. They'll appreciate your honesty and diligence in ensuring they're receiving quality service.
2. Quality Craftsmanship
It's important to offer your roofing prospect a variety of shingle options, from style to color to price. Then, keep them engaged with an in-depth discussion–explain the benefits of each option. In providing this experience, you show your potential customer that you care not only about how their structure will look when complete but also about compromising with their budget.
Materials matter, but so does your work's quality. Top-of-the-line shingles are only effective if properly installed on solid, high-quality decking with the right materials positioned in between. Make sure everyone on your crew is trained appropriately for the roof replacement process, whether they're involved in tear-off, installation, or cleanup. And your roofing foreman should be trained in every aspect of the job. Altogether, this training strengthens quality and efficiency.
3. Efficiency
Oftentimes, the sooner you get the job done, the happier your customer. But how can you be efficient without sacrificing the quality of your craftsmanship?
Take advantage of technology.
Nowadays, nearly everything is going digital. Many supply and technology companies have developed apps specifically to help roofing companies complete and manage a variety of tasks, including but not limited to:
Measuring the area and pitch of your customer's roof
Automating quotes
Ordering materials
Managing job progress
Managing contacts
Many of these apps are free with in-app purchase options. Be sure to do your research to determine which app(s) are right for your roofing startup or enhancing how your decades-old company does business.
Use innovative equipment.
Using the right tools and equipment makes all the difference not only in the quality of your work but your efficiency. Your choices are nearly endless. One piece of equipment becoming more popular is the self-propelled dump trailer.
Equipter offers a variety of lightweight, liftable dump containers for use on nearly any job.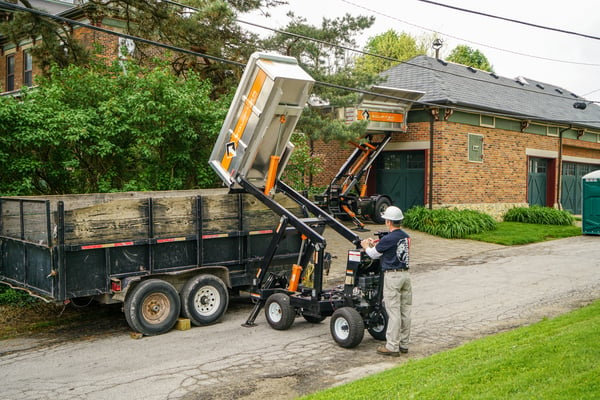 Roofers love the RB4000 self-propelled dump trailer for many reasons. It virtually eliminates setting up and hauling standard tarps. It also serves as a tool and material lift, reducing the risk of job site injuries from lugging heavy supplies up ladders every day.
4. Cleanliness
Keeping the work site clean is a paramount part of your customer service. Your customer will cringe if they catch your cleanup crew hauling overflowing tarps across their yard, imagining their pets or children stepping on stray nails.
When customers are comfortable during your roof replacement process, they're less likely to scrutinize your work. Make sure to keep their flowerbeds clean and avoid damaging any other landscape obstacles. The Equipter RB4000 helps eliminate this concern for homeowners and contractors alike.
5. Personable
Customers can be quick to pick out flaws in the finished product if they have issues with the company or roofing crew during the roof replacement process. That's where this skill comes into play.
If you own a roofing startup company, then you likely wear most of the hats. It's important that you maintain a professional and relatable demeanor throughout every step of the job. When you show you can relate with your customers, they'll be more comfortable with you during and after the project. If they happen to have issues after the roof is replaced, they'll be much more confident that you'll treat their situation with the care and attention it deserves.
BONUS TIP: Check in with your customer after the most recent storm following their roof replacement. They'll appreciate your concern and likely contribute to your word-of-mouth referrals.
6. Affordable
Homeowners go into every home improvement project with a budget, but the company with the lowest bid doesn't always win. If you own a home, you know that all of the above qualities are essential in whoever you hire to work on the place where you lay your head at night. If a company comes in at a slightly higher price than its competitors, they need to be able to justify what makes their company the right choice by addressing the homeowner's biggest concerns.
When you're able to differentiate yourself from the competition in a way that highlights your care and quality performance, your prospect is much more likely to commit.
Homeowners want a professional. Be that professional.
Reliability, efficiency, quality craftsmanship, cleanliness, and being personable and affordable all combine to build an unbeatable customer experience for any homeowner. These qualities are easy to achieve whether you have been in business for decades or are just starting out.
Follow us on Facebook and Twitter (@equipter) for more tips and tricks for improving efficiency and increasing referrals.