One concern many roofing company owners and their employees have is whether our unique, revolutionary piece of roofing equipment is the right size for their jobs. Our answer? Of course! The simple and easy-to-use design of the Equipter RB4000 makes it the perfect fit for any residential roofing job.
Developing Our Self Propelled Compact Trailer
When designing the Equipter RB4000, we wanted to make sure that this unique roofing tool fit the needs of the residential roofer community. The Equipter RB4000 is designed to lighten your load. It has a 4 cubic yard compact trailer that can hold 12 to 15 squares of asphalt shingles on your roofing job, giving you more time to work on the roof and less time facing the aftermath.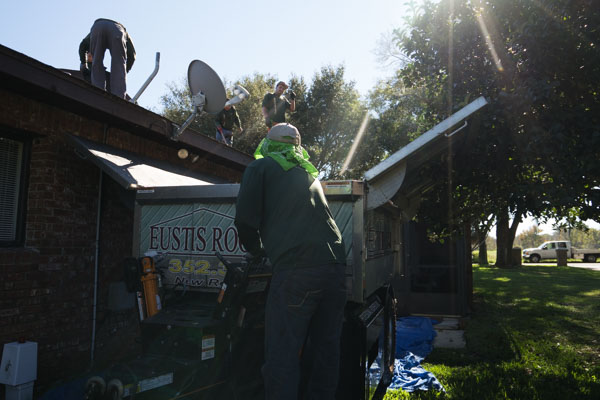 Weighing In: The Compact Trailer
With 15 years of roofing experience under our belts, we know cleanup is the worst part of the day for roofers—you're worn out from all the physical labor you exerted throughout the day. The last thing you want to do is spend more time bent over, now repeatedly hauling shingle debris to the dumpster all the way across the job site and picking out nails and large strips of tar paper and shingles from the flowerbeds of your customers.
With this in mind, we designed the roofing tool that would finally become the Equipter RB4000—a compact trailer that when full reaches up to 4000 lbs so that while you're doing your job, this innovative piece of roofing equipment is not a danger to your customers' properties. The Equipter RB4000 is light enough that it will not leave ruts in your customers' freshly manicured lawns and can easily be maneuvered across any job site.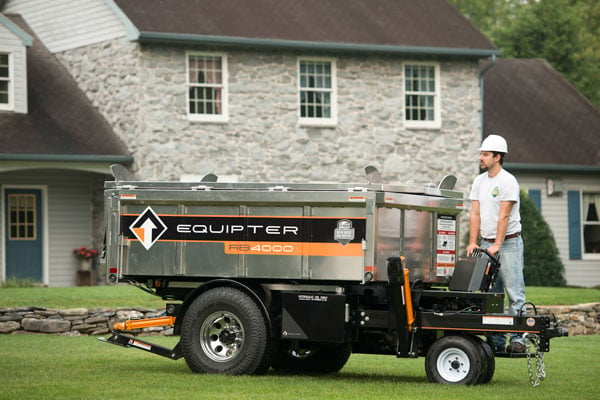 Operating The Equipter RB4000
We know that 12 to 15 squares of asphalt shingles certainly do not constitute the size of an average roof. That's why we made the Equipter RB4000 a self-propelled, drivable machine. When you're working with this roofing tool on most residential roof replacement jobs, you will only need to make between two to three trips to your on-site dump trailer per job rather than carting countless wheelbarrows full of shingle debris across the job site, risking the possibility of losing your balance and spilling the contents of the wheelbarrow all over the lawn.
The Equipter RB4000 requires only one person to operate and is easy to drive around the job site, whether you're repositioning the compact trailer or taking it over to the on-site dump truck or trailer.
So yes, this revolutionary piece of roofing equipment is just the right size for you and your fellow roofers to get the job done efficiently and on time every time. Start building your Equipter today.