Why work harder when you can work smarter? Boosting productivity is absolutely one of the most effective ways to grow the bottom line. Use these five roofing productivity tools to send productivity through the roof.
1. Equipment Investments
The Equipter RB4000 was designed by roofers for roofers. It offers a host of benefits that give roofing replacement pros the ability to work smarter by streamlining material handling and debris management. Here's how the RB4000, sometimes called the "Roofer's Buggy," helps crews work more safely and efficiently: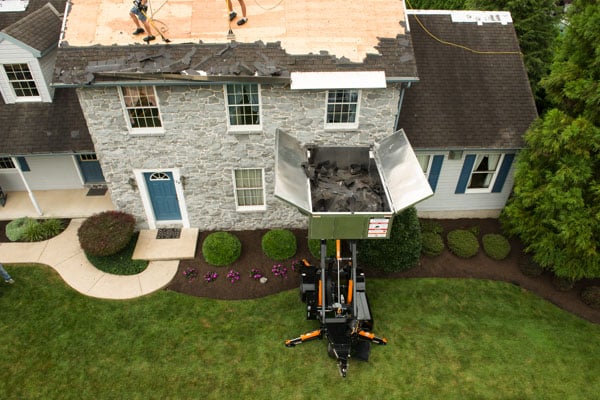 You can raise the container to roof level: The RB4000 lifts up to 12 feet high so it can be positioned immediately next to most residential roofs. This enables crew members to place debris directly into the container, reducing the risk of falling shingles and the need to double- or triple-handle material.
You can drive it right up to the home: Wide tires, lightweight construction, and a gas-powered engine allow a roofer to maneuver the Equipter virtually anywhere on residential properties or construction sites. What's more, when the job is finished, simply drive the RB4000's loaded container back to the trailer.
You can position the container over property features: Use the roll-back extension feature to raise the container and then extend it backwards over features like shrubs or flower beds.
2. Customer Relationship Management (CRM) Software
This business tool streamlines critical processes into a single system for increased productivity. For example, a CRM package may include project planning tools, work order calendars, and safety training documentation. Some CRM tools, like Dataforma, are designed specifically for the roofing industry, while others, such as Salesforce, are designed for small businesses in general. Check back with the Equipter Blog soon for a more in-depth look at CRM software for roofing companies.
3. Accounting Software
If you're not quite ready to invest in a CRM system, small business financial software will at least give you a solid foundation for managing the money side of business. Use these tools to track expenses, automate banking, track inventory, and more. Popular small business accounting software includes QuickBooks, FreshBooks, and Zoho.
4. Office/Marketing Templates
You may already utilize templates for standard business forms, like contracts, proposals, or invoices. However, templates can streamline even more of your office and marketing processes. Consider creating templates for emails or letters to:
Welcome new roofing clients;
Follow up on sales presentations;
Ask homeowners to post online reviews for your company;
Request homeowners submit a customer satisfaction survey.
5. Social Media Post Automation
It can be tough to carve out time to promote your contracting business on social media. Yet, it's becoming a near-necessity if you want to establish yourself as a professional and increase search engine rankings. While scheduling software won't write the content for you, it does allow you to schedule posts to publish on a date and time you designate. Commonly-used scheduling tools include HootSuite, Buffer, and CoSchedule.
What other roofing productivity tools do you use to increase your contracting company's efficiency? Join the conversation and share your expertise on Equipter's Facebook Page.