Because of the intensity of physical labor and the nature of the roofing industry, back problems are not uncommon for roofers. According to Construction Solutions, lower back pain has been reported by 50% of construction workers surveyed in a single year. For many of them, it affects their ability to do their jobs well.
In this blog, we want to address some of the causes of back problems in the roofing industry as well as solutions and practical steps you can take to lower your risk of back pain.
Causes of Back Pain in Roofing
Back problems in the roofing industry can happen in a split second due to lifting a heavy object, or they can occur over time by stressing the back on roofing jobs. Musculoskeletal disorders (MSDs) in the back include sprains (injury to a ligament), muscle strains, and damage to the spinal disk.
There are several factors that can contribute to back pain in the roofing industry. Lifting objects, whether heavy or light, can be hard on your back if lifted incorrectly.
The 2014-2015 Occupational Outlook Handbook of the Bureau of Labor Statistics shows that more than 75% of a roofer's time is spent crawling, kneeling, stooped, and crouched on the roof.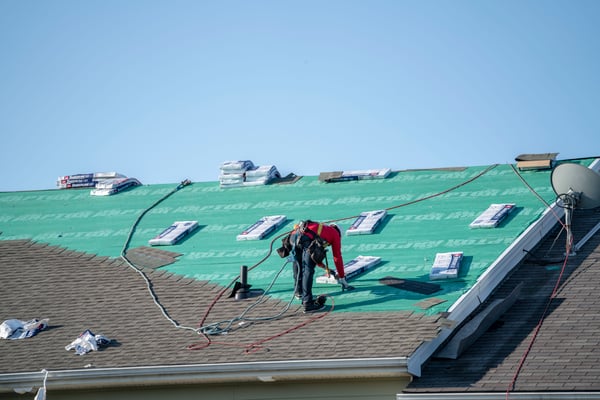 Staying in the same position for extended periods of time is also harmful to your back. This is often a problem for roofers, as they're hunched over on the roof replacing shingles for long amounts of time.
Twisting and bending in awkward positions is wearing, even when lifting a tool as simple as a nail gun. Though they happen less frequently than the problems mentioned above, falls can also be a cause for back injuries on the roofing job.
Alarming Back Pain Facts
Sure, in some cases, back pain can heal over time. Chronic or low back pain may take longer to heal than basic sprains or strains, and the financial costs associated with treating back pain add up quickly.
An infographic by The Good Body shows that Americans spend a minimum of $50 billion a year to treat back pain and an additional $100 billion in indirect yearly costs (including loss of production and wages and "legal and insurance overheads").
Other shocking back pain statistics from The Good Body include:
90% of people have their low back pain resolved in just 6 weeks
60-80% of people relive their back pain within 2 years
31% of males say their back pain hinders their abilities to do their jobs properly
Even when medical options are taken advantage of, long-term back health is not guaranteed. So, how can you reduce the risk of developing severe back pain if you're in the roofing industry?
How to Reduce Back Problems in Roofing
Avoiding or reducing the risk of back injuries or low back pain is important, seeing that treatment is costly with no guaranteed cure. The following are a few tips to follow to reduce the risk of roofing-induced back pain.
Lift tools and materials correctly.
Using correct lifting techniques on the job puts less weight and strain on your back, preventing injuries while roofing.
Bring objects close to your body before lifting, instead of lifting them at arm's length. In addition, use your knees while keeping your back vertical. Using these techniques help prevent MSDs.
Wear quality shoes.
Make sure to wear the right shoes while working on the roof to give your back the extra support it may need. Non slip shoes with thick soles will also ensure you stay on the roof instead of landing in the hospital due to injury from a fall. According to PHP Systems/Design, falls also account for nearly 75% of roofing industry fatalities.
For more info, check out these fall protection tips to keep you safer on the job!
Use the right roofing equipment and tools.
(Pictured: Shirk Bros. Roofing)
The Equipter RB4000, RB2500, and RB2000 are quality, American-made pieces of equipment that increase safety on the job site while increasing your crew's efficiency. These self-propelled dump containers can help you navigate tools and materials across the job site and up to the roofline to eliminate the stress on your crew of hauling everything up and down ladders all day. The equipment also brings greater debris management, keeping workers from double- or triple-handling tear-off debris.
These back pain facts and preventative solutions are brought to you by your friends at Equipter. Our goal is to make every job easier for you and your crew. Be sure to follow us on Facebook, Twitter, and LinkedIn for more tips and tricks on how to improve efficiency and safety on the job.
*Note: Equipter is not certified to provide medical advice. For specific risk-reduction, diagnoses, treatments, and other information associated with back pain, please contact your physician or preferred specialist.