Roofing equipment like the Equipter RB4000 can boost your bottom line. What would your bottom line look like if you could bill four or six more jobs every month? For some roof replacement professionals, that scenario is becoming a reality. Check out how the Equipter RB4000 is helping roofers complete more jobs each month—and how this roofing equipment can do the same for your business.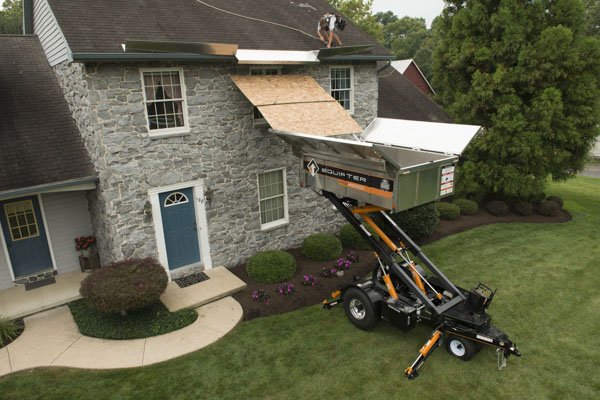 The RB4000, sometimes called the Roofer's Buggy, is a specialized dump trailer designed by roofers, for roofers.
In the first year, it transformed our business. We can probably do 1 to 2 more houses per week, and if it's a steep job, we can keep it extremely clean and really efficient. On a job with a steep roof we can probably do the job 2 times quicker and on a standard roof, we're looking at 1 or 2 houses more a week" (Jason Reisman, Eustis Roofing).
How will the Equipter RB4000 boost the profitability of your roofing business?
Streamline material handling.
Double- and triple-handling new shingles, scraps, and waste material adds to your crew's workload. The RB4000 streamlines productivity with a dump trailer that can be raised to 12' high and opened into a 10.5' catch area for easy material offload and disposal. Streamlining some of these labor-intensive aspects of roofing helps you raise productivity and lower labor costs.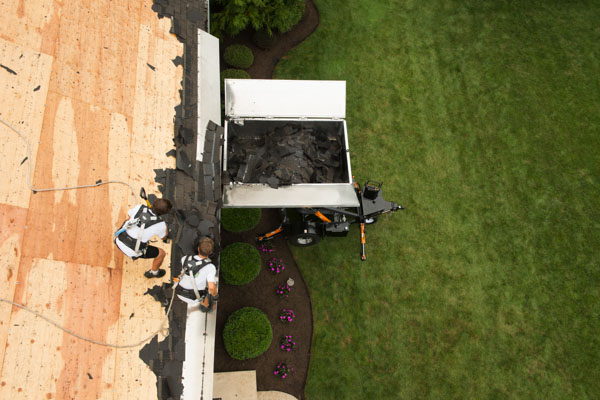 Maneuver onsite easily.
Homeowners value their properties, which is why so many professional roofers take care to ensure they leave the job site as they found it. The challenge is that with traditional roofing equipment it takes time and effort to safely navigate "hazards" like fountains, bushes, HVAC equipment, and garden gnomes. The RB4000, which is just 6' wide, features a 13-horsepower engine and tight turning radius so one crew member can easily maneuver it onsite while minimizing property damage. Plus, it has a unique lift-and-roll-back feature that lets you extend the trailer back overtop of property features.
For these reasons, homeowners love the cleanliness of the RB4000. According to a 2018 Equipter customer survey, 94% of Equipter users say homeowners are impressed or very impressed by the RB4000, which leads to landing more jobs, and in turn, roofers are able to bill more jobs sooner.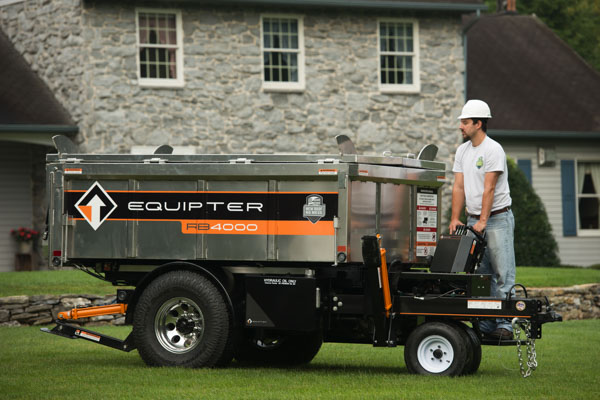 Slash clean-up time.
The Equipter RB4000 de-hassles what is traditionally the messiest part of roofing. Crew members get easy access to the raisable dump container with its 10.5' catch area (and roof extension kits), decreasing the time it takes to clean up errant scraps and debris that would otherwise fall to the lawn and into bushes.
Generate referrals.
Customers love roofers who complete their jobs cleanly and professionally. Our specialized dump trailer helps your crew do exactly that, creating the opportunity for more referrals. From posting a positive review on your company Facebook Page to raving about you to the neighbor who needs a new roof, a customer who feels you've treated his or her property with respect will happily recommend your roofing business to others.
For more information on landing and billing more jobs, check out how to improve your sales game and learn why roofing employees love the Roofer's Buggy.