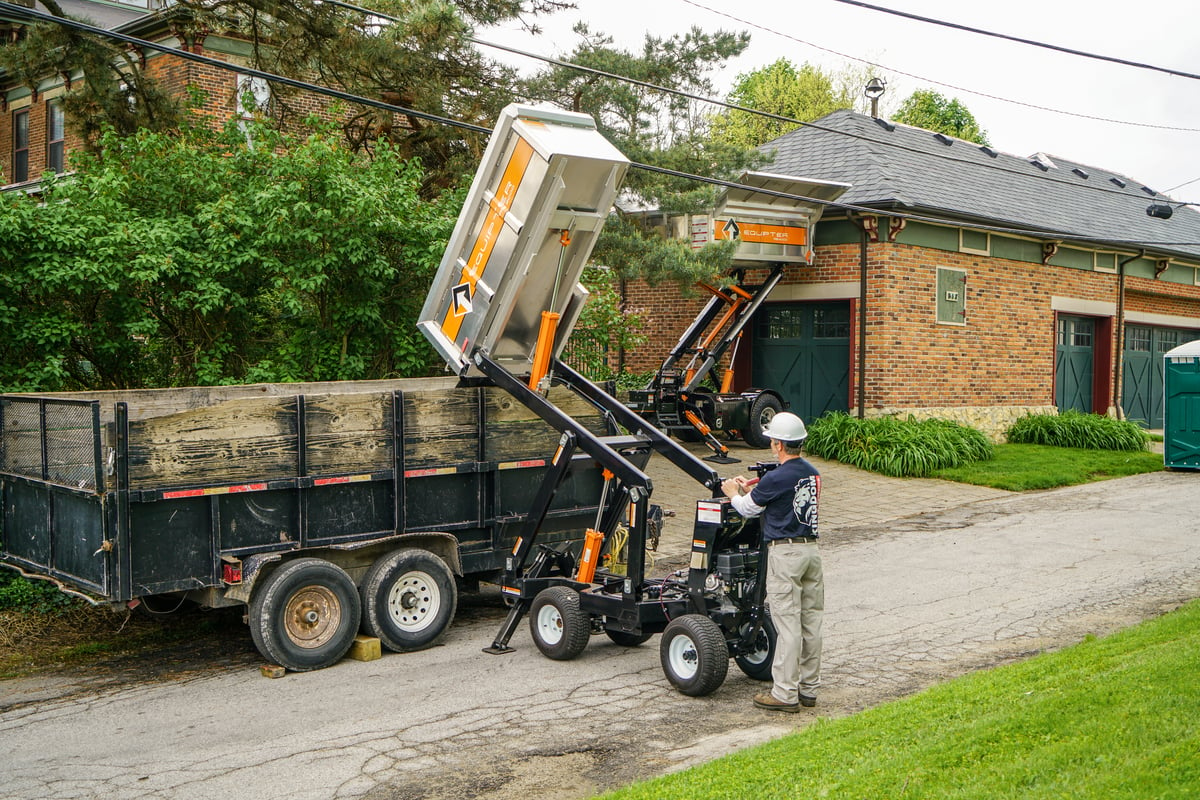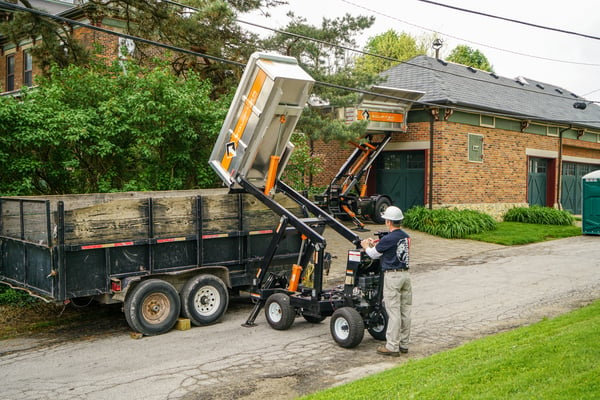 Should you buy an Equipter RB4000 or RB2000? At first glance, the units look fairly similar, but there are important differences to consider before you invest in one of these productivity-raising debris control tools. Download our quick reference guide or read on for more details.
Equipter RB4000
The RB4000 is the original drivable dumpster that Aaron Beiler developed when he owned his Lancaster, PA roofing company. For more than 15 years, roofers across the U.S. and Canada have relied on this debris control trailer to dramatically boost productivity and cut cleanup time.
Key Features
Sized for Maximum Capacity with Minimum Damage
Not too big. Not too small. Just right! Goldilocks would have loved the RB4000, which is large enough to hold 12-15 square and compact enough to move heavy loads over lawns without damaging them.
This roofing trailer is approximately 6 feet wide, making it ideal for lifting and lowering tools, materials, and debris on most residential and commercial properties.
Towable & Drivable for Easy Maneuvering
Move the RB4000 from site to site by disengaging the front axle and hitching it to your truck, just like you would any other trailer. Since it features a sturdy chassis and wide tires, it trailers like a champ when you're on the road.
Once onsite, engage its gas-powered engine to position it close to the tear-off location, allowing crews to drop debris directly into the box. Its precision turning makes it easy to maneuver the RB4000 around property features, like trees, decks, and sheds.
Rollback Extension to Protect Property
Keeping homeowners happy by minimizing property damage is a must when you're replacing a roof! The RB4000's container extends backward up to 4 feet, so you can position the box over landscaping, flower beds, and other property features.
For more details, check out our RB4000 Buyer's Guide.
Equipter RB2000
The RB2000 is our original trailer's scrappy little brother. But don't let its size fool you. This compact drivable dumpster will work just as hard as your crews by managing the heavy lifting in spaces you wouldn't dare take a truck or conventional trailer.
Key Features
Sized for Heavy Lifting in Small Spaces
At just under 3 feet wide, the RB2000 is rugged enough to carry up to 1,500 pounds of debris and materials but small enough to navigate between buildings, through alleys, over small-town sidewalks, or around busy construction sites.
This debris control equipment is compact enough to maneuver indoors, too. Demo crews and general contractors love that it lets them easily move materials inside buildings or even on top of large, flat roofs.
Drivable for Easy Material Handling & Debris Control
Transport the RB2000 to the site by loading it onto a trailer. Once on site, fire up its smaller gas-powered engine to move and position the unit precisely where you need it to be. When the 1.3-cubic-foot container is full, simply drive the RB2000 to an onsite dumpster or trailer to dump the load.
Still not sure whether the Equipter RB4000 or RB2000 is best for your applications? Our experienced sales team will help you maximize your investment by guiding you to the right tool for your business. Click the link below to connect with us directly now.