Roofing is risky business. From workers comp claims to lawsuits and even funeral costs...losing crew members can destroy a company.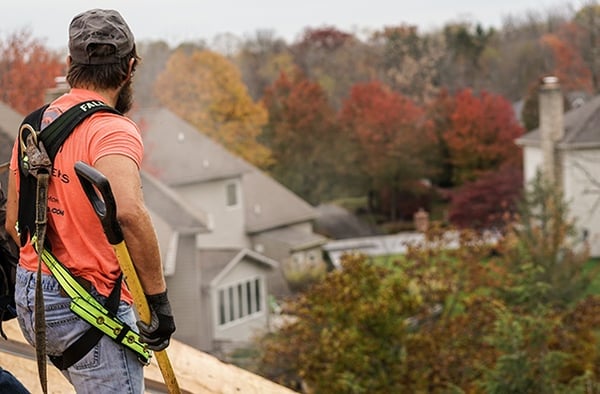 Keep your crew—and your company—safe and reduce the risk of job site injury with these helpful tips on residential roof fall protection.
Rock the right footwear.
Nowadays, there's a shoe for every lifestyle and job. When looking for the right roofing shoes, keep these must-have characteristics in mind:
High-quality traction
High-top for ankle stability
Leather or suede for durability
Flexibility
Thick shoelaces
Safety toe
Work boots are not immortal, and wearing them until the soles wear out can be just as dangerous as wearing the wrong footwear. When the tread is worn thin, there's a greater chance of slipping, and stepping on nails becomes increasingly more dangerous. Be sure your crew knows how to tell when it's time to replace their roofing shoes.
Use a personal fall arrest system.
Whether you're a full-time roofer or a contractor that covers a variety of residential projects, it's essential your workers are kept safe in all situations. According to OSHA, "More than one-third of fall deaths in residential construction are caused by falls from roofs."
A personal fall arrest system (PFAS) is a favored residential roof fall protection tool among many roofers, with a full body harness connected to the main component of the system by a lifeline or lanyard. Rope grabs and temporary guardrails also contribute to roofer safety when the workers are carrying tools and materials across the roof or plowing through the tear-off process. All of these fall protection methods still allow for roofers to move freely across the work area, so they can get the job done on time every time.
Keep the roof clear of debris at all times.
Avoid tripping hazards by ensuring the area you're repairing or reroofing stays clear of roofing debris. Tear-off is often the toughest and messiest part of a roof replacement, with roofers shoveling old shingles right over the edge of the roof onto tarps and nets that can sway in the breeze or cave under pressure from all the debris. Beware of stray nails still on the roof that may snag old shingles and tar paper. Look out for pieces of broken clay or slate shingles with sharp edges, too.
The Equipter RB4000 helps eliminate the mess on the ground, with your crew pushing debris into a portable dumpster container that's level with the roof's edge. The same can be done with trash from the new shingle installation—wrappings, scraps, etc. go straight into the container instead of blowing across or sliding down the roof. Check out Roofing Safety Benefits of the Equipter RB4000 for additional ways in which it can help your roofers.
Work in weather conducive for roofing.
All professional roofers know not to roof in the rain, but roofing after rain can be hazardous if the old roof or your fall protection system hasn't had time to dry.
Asphalt shingles in shaded, humid areas can develop Gloeocapsa magma. This type of algae is commonly found on older roofs, which can lead to slippery shingles when wet. To combat the issue, manufacturers have taken steps recently to prevent the growth of Gloecapsa magma by adding granules of copper—an element toxic to the algae—into roofing materials.
Exposure to excessive heat can also be detrimental to roofers. Be sure everyone on your roofing crew stays hydrated by keeping a steady supply of water on the job at all times.

Need more roofing safety resources? Find them here!