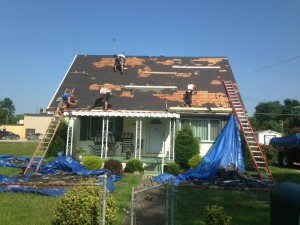 Debris control is a doozy in residential roofing. All the different terrains, slopes, and landscape features make it tough to maintain an effective solution. But it's important to implement a roofing debris management system that preserves your crew's energy and works on virtually all job sites.
So, how do you develop and maintain a successful debris management system?
Consider property and equipment features when creating a roofing debris management system.
While many properties have similar characteristics, you know each property has its own quirks that may influence your debris control during roof replacement. More factors than the size of the roof being replaced come into play when determining the best plan of action.
Keep these factors in mind when putting together a residential roofing debris management system:
GVWR of equipment used
Space between houses
Landscape obstacles near the house perimeter
Slope of the property
Terrain
Use the right equipment for residential roof replacements.
Efficiently replacing the roof on someone's home can be challenging when you're not working with the right equipment. But how do you know what equipment to use to get the job done without risking damage to your customer's unique property?
The chart below includes a variety of equipment that has been used in the roof replacement process. We'll break down each piece of equipment along with its pros and cons to help you determine which ones are the right equipment for your job.

Knuckle Boom Lift
Knuckle boom lifts may be ideal for window cleaning and electric wire maintenance, but they're no friend to residential roofing projects. If you need to lift plywood, tar paper, shingles, or other roofing materials, this lift system is not the way to go (although some have tried…).
Knuckle boom lifts are heavy equipment that should not be used on residential properties. It's not uncommon for this equipment to have a GVWR of around 23,000 pounds but a lift capacity of only 500. This poses a high risk of damage to lawns and delicate landscape features, especially when operating in tighter spaces.
Knuckle Boom Lift Pros
Reaches high places
Easy to operate
Serves as a man lift
Knuckle Boom Lift Cons
Not ideal for residential projects
Leaves ruts in lawns
Can damage landscape features
Best Uses for Knuckle Boom Lifts
Window cleaning of tall buildings
Maintenance work
Fixing or installing outdoor electrical wiring
Roll-Off Dumpster
The most common dumpster size used in residential roofing is the 20-yard dump trailer. Where you choose to put the 8' wide x 22' long dump container for a week can affect your relationship with a customer.
As the weight of debris piles into the dumpster during a roof replacement, the dumpster presses down harder onto the customer's lawn. Then when the company comes to pick up the loaded dumpster, the vehicle may even rip up the lawn. If a customer is on a time restraint–perhaps a couple needs their roof replaced before hosting their family reunion next weekend–the last thing they want is a massive eyesore on their property.
Placing the dumpster in the driveway is an inconvenience for customers and increases their risk of getting a flat tire from stray nails and other sharp debris.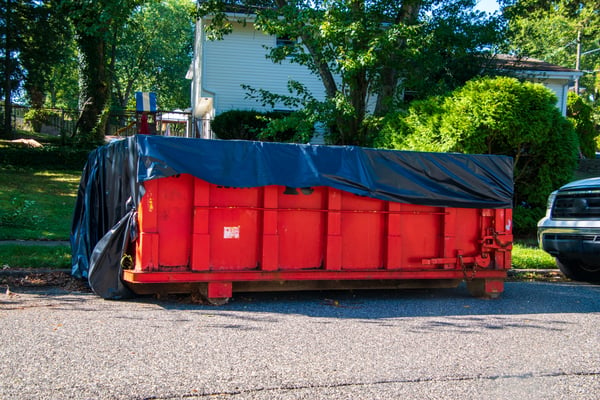 Standard Dumpster
The most convenient option for your customers is placing the roll-off dumpster at the curb. This keeps the driveway clear for parking or an after-school neighborhood game of basketball, helping you maintain satisfied customers during the roof replacement process.
Roll-Off Pros
Holds debris from an average residential roof replacement
Eliminates multiple trips to the dump
Rental cost can be tied into the estimate and/or business expenses
Rental company drops off, picks up, and discards debris
Roll-Off Cons
Added costs of rental, delivery, etc.
Delivery/pick-up delays
Takes up parking
Causes dead grass and ruts upon removal
Dump Truck
Whether it's an original dump truck or a dump bed added to a Class 6 vehicle, dump trucks are handy equipment to include in roofing debris management systems.
According to Hometown Dumpster Rental, a dump truck can haul around 12 cubic yards, depending on the material. However, legal weight limits are based on the size and number of axles on a dump truck, so be sure to do your research before renting or purchasing for your next roof replacement.
Dump Truck Pros
No towing hookup hassles
Place curbside or in the driveway
One trip to the dump
Transport tools to the job
Tow the RB4000 to the job
Dump Truck Cons
Weight from tear-off can damage lawns
No landscape protection
Standard Pickup Truck
If you use your own dump trailer during roof replacements, you need equipment strong enough to haul it, right? In this case, your pickup truck may already be a part of your roofing debris management system. Just be careful you don't leave ruts in customers' lawns with your truck and trailer.
When it comes to hauling materials and trash, it's more affordable when you don't have to rely on delivery and pickup services.
Pickup Truck Pros
Reduces supply delivery costs
Easily tows Equipter RB4000
Helps maneuver dump trailers where needed
Pickup Truck Cons
Not very versatile
Leaves ruts in soft and wet lawns
Equipter RB2000 and Equipter RB2500
The Equipter RB2000 and Equipter RB2500 are self-propelled dump containers that squeeze into narrow spaces and lift up to 7 feet to catch debris before it hits the ground.
The RB2000 has a catch span of 2 feet 6 inches, while the RB2500's catch area is 3 feet 9 inches. Optional side extensions add another 3 feet and 1 inch to either unit's catch area.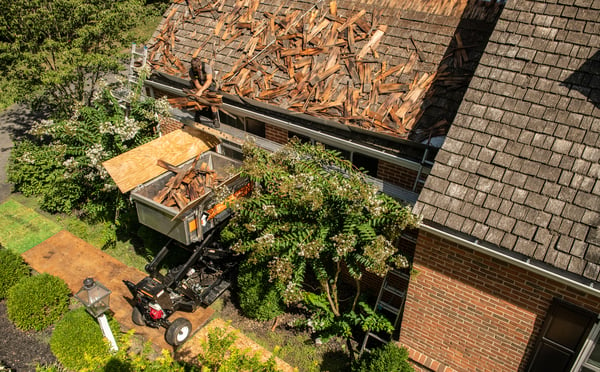 Equipter RB2500 with Optional Side Extension Kit
The RB2000 fits through most standard chain fence openings, allowing quick and easy access to the backyard so your crew isn't hauling heavy, unstable tarps across the customer's property.
The Equipter RB2500 can haul up to 2,500 lbs around the job, and both units can also transport tools and materials around the job.
RB2000 and RB2500 Pros
Low maintenance
RB2000 fits through most standard chain fence openings to easily get to the backyard
Easy access to narrow alleyways for inner-city roof replacements
Drivable on sidewalks
Multifunctional
Safer environment for workers and customers
Reduces labor costs
Decreased end-of-day cleanup
RB2000 and RB2500 Cons
Not towable (Equipter recommends transport by utility trailer)
No lids
Equipter RB4000
Did you know it's possible to skip the blue tarp altogether? The self-propelled Equipter RB4000, formerly known as the roofers buggy, has been helping roofing contractors complete more jobs and maintain cleaner work environments since 2004.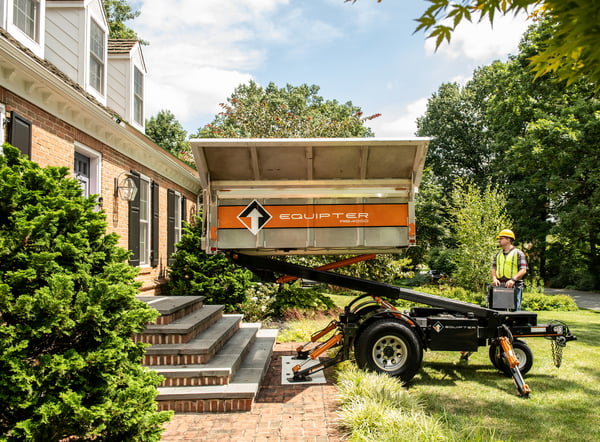 Equipter RB4000's 4-ft Rollback
The aluminum container contributes to the unit's lightweight design, making it one of the safest pieces of equipment to drive on a customer's lawn. The wide tires allow for a better weight distribution during transportation, and the outriggers lift the unit slightly off the ground to alleviate the added weight from the debris as the container fills. The 4-foot rollback feature shields flowerbeds from dangerous debris.
This portable dump trailer's lift and hydraulic tailgate make for a smooth, contactless debris disposal right into your dump truck or roll-off dumpster at the curb.
Not only is this an excellent addition to roofing debris management systems, but the RB4000 also doubles as a trailer itself. Tow it and load it at your local supplier to cut supply delivery time and fees. Once you get to the job, just unhook it from the truck, drive, and lift it right to the roof.
Equipter RB4000 Pros
Low maintenance
Gets in hard-to-reach spots that average dump trailers can't
Keeps flowerbeds clean
Multifunctional
Quick and easy to set up
Reduces labor costs
Decreases end-of-day cleanup
Towable by standard pickup truck
Equipter RB4000 Cons
Not ideal for inner-city roof replacements
Shouldn't be driven on wet ground (without plywood or Equipter Track Mats)
Thinking about testing an Equipter RB4000? Click below to find the closest rental location to you. Don't forget to ask about daily, weekly, and monthly rates for renting the Equipter.
Invest in roofing equipment that gets the job done faster and cleaner.
The blue tarp is so old fashioned. Invest in long-lasting equipment that streamlines cleanup and production while minimizing contact with tear-off debris. From dump trucks to portable dump trailers, there are tons of options for building your own efficient roofing debris management system.
Equipter is here to serve. Contact our reps today at 717-661-3591 or sales@equipter.com for financing on Equipter dump trailers for your debris control solution.