Are your hardworking roofers safe? Sometimes it feels like being safe can slow down the job, but it doesn't have to.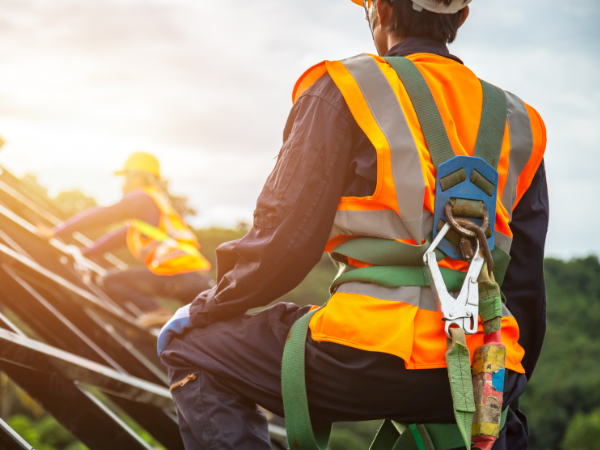 In addition to following OSHA's guidelines and requirements, whether in residential roofing or commercial roofing, there are plenty of systems and tools that can help improve job site safety.
Take a look below and make sure your crews are equipped with these six must-have pieces of equipment that help improve job site safety for roofers.
1. Roofing tie-off systems
A roofing tie-off system is probably the first thing you think of when you think "roof safety." It's also quite possibly the most important fall-protection equipment for roofers, yet some contractors neglect to use these systems.
Tie-off systems typically involve an anchor nailed to the roof or a mobile, freestanding anchor that is unattached to the roof but still provides stability for your crew as they work on replacing the customer's roof. With tie-off systems, roofers attach their harnesses to lanyards that are then attached to the rings on these stationary or mobile anchors.
Make sure to do your research and invest in high-quality harnesses, lanyards, and anchors to ensure a flawless fall-protection system that'll keep your roofers safe without holding back their productivity.
2. Roof brackets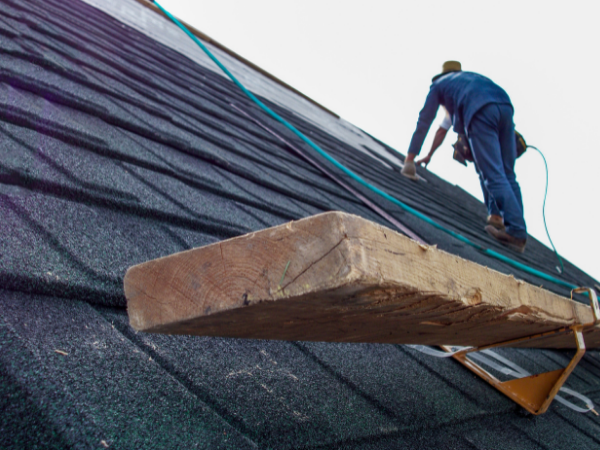 Roof brackets–also known as roof jacks–attach to the roof under shingles. Many roofers rest two-by-fours on top of a pair of roof brackets to make a sort of scaffolding to shelf smaller tools. Not only does this setup prevent those tools from falling over the roof edge. It also gives your workers better footing.
When setting up roof brackets, always use long nails to secure them to the roof rafters, not only sheathing, to keep the brackets in place. It's important to install the roof brackets properly to ensure there are no weaknesses that could send a worker and tools over the edge.
3. The right roofing shoes
The right roofing shoes are important safety tools, and it's essential for you to encourage your roofers to use them.
Digital Roofing Innovations recommends shoes with a large outsole surface area to ensure better grip when working on a roof. For example, avoid wearing cleats. Not only do they damage shingles during installation, but cleats lack outsole surface space and could therefore pose a safety risk, especially on steep slope roofs.
Across the board, roofers love and recommend Cougar Paws for asphalt roofing jobs. Each pair of these shoes have an excellent grip, adding an extra layer of protection for hardworking roofers who spend most of their days navigating across asphalt, clay, or wood shakes, and other types of shingles.
4. Liftable dump trailers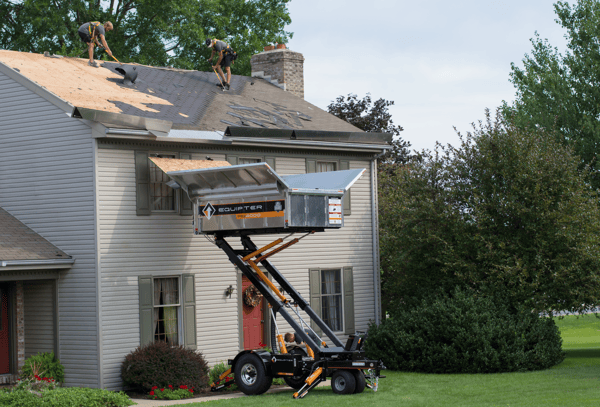 Liftable dump trailers help reduce the amount of tear-off debris that lands in lawns. With the ability to lift right to the roofline, these types of roofing dump trailers catch debris so cleanup crews don't step on stray nails or get sliced when picking up torn decking.
The Equipter RB4000 is a self-propelled liftable dump trailer that has been keeping job sites cleaner and making roofers' jobs easier and safer since 2004. Lifting up to 12 feet, the RB4000's container reaches the roofline to catch up to 4,000 lbs of roofing debris. When it's full, the RB4000 can be driven to an on-site dumpster to dispose of the debris.
The lightweight Equipter RB4000 can also be driven across virtually any job site to haul and lift supplies to the rooftop, keeping your crew members from damaging their backs carrying supplies up a ladder. In addition to taking the weight off hardworking roofers, the RB4000 also better protects materials like solar shingles while getting them up to the roof.
5. Drones
Drones have been around for a while, but they're no longer just the videographers' friends or a hobby. They're becoming a more popular and practical piece of roofing equipment, and roofers are slowly embracing the idea.
With a high-quality drone camera, roofers no longer need to climb to the roof to perform roof inspections. Instead, they can keep their two feet on the ground while using their drone to inspect a potential customer's roof.
6. Roofing software
While, like drones, roofing software and apps don't physically protect people on the roof, they do reduce the amount of time needed to be on the roof for inspections, measurements, and estimates.
Here are a few apps and software programs that'll simplify your job and keep your inspectors safely on the ground as much as possible:
Drone Deploy works alongside your drone (best with DJI drone) to help you perform inspections and measurements. Check out these features:
Thermal imaging




Thermal imaging brings out roofing flaws that are often overlooked.

Drone Deploy app




The Drone Deploy app makes the software easy to use while you're on the go.

Roof reports




Drone Deploy generates a roof report based on the drone footage you provide. These estimates cost $35 each and provide several types of measurements. Drone Deploy also promises to have your report to you within two hours of submitting your footage.
Interested in trying Drone Deploy? They give your first roof report free!
iRoofing is a software company that has some great features to help roofing companies streamline roof measurements and estimates.
Simplify estimates
iRoofing calculates the amount of roofing materials needed and creates estimates for your customers with your roofing company's pricing.
Roof measurement
iRoofing measures roofs using satellite and drone images, as well as a few other methods.
Roof simulation tool
iRoofing has a simulation tool that gives customers a visual of their home with various shingle styles and colors.
Want to learn more about roofing apps and software? Check out 4 of the best roofing apps to improve your roofing business!
Bonus Tip: Never underestimate training
In spite of all the roofing safety equipment in the field, construction fatalities continue rising. An article published in the ASCE Journal of Construction Engineering and Management in May 2020 indicates that roofers may begin to take more risks when they feel more secure on the job.
That's where the importance of training comes in. Make sure your crew members know that no matter how safe they feel with the equipment you provide, they always need to take the proper precautions.
Investing in the right tools and roofing safety equipment for your crew can make a huge difference on the job and shows you value your team. Make sure they're fully equipped and familiar with standard safety protocol before they begin any job.
Want more? Check out Equipter's list of roofing safety resources here.