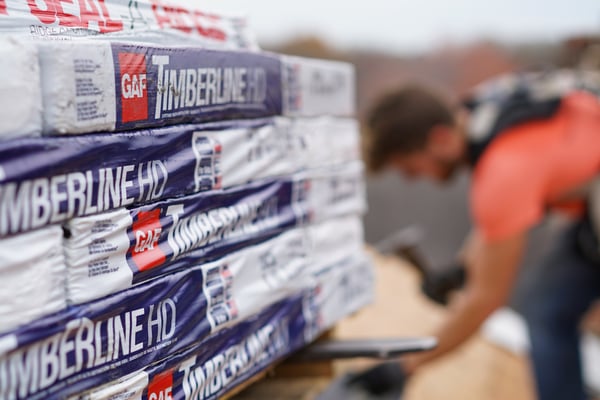 When was the last time you analyzed your roofing company's business process? Every part of the process affects on-the-job efficiency.
In this article, we explore three different techniques for boosting job site efficiency that can be implemented for every roofing job.
How do you increase job site efficiency?
There's always room for improvement when it comes to on-the-job efficiency. Make sure you put these three actions into practice to help boost time management on and off the job.
1. Set clear expectations with customers.
Be transparent with your potential customer from the start. Since many homeowners don't understand the complexities of roof replacement, it's your sales rep's responsibility to lay the foundation of expectations for the process.
What if the customer wants to change roofing materials?
Not only should the rep walk them through your company's roof replacement process, but you should inform them that any change in materials will shift the process and delay the project. That means that if they decide they don't like the shingle color midway through installation, they need to know that tearing off the new roofing shingles may involve replacing underlayment materials twice. Ensure they're aware that this will push the completion date and raise the cost of their project. Once this has been verbally established, be sure to note it in the proposal and final contract, as well.
What if roofers encounter unforeseen roofing damage?
Also, while it goes without saying among roofing contractors, many homeowners don't realize that some roof damage isn't identifiable during the initial inspection. Many contractors compensate for this in the proposed timeline and sometimes even estimate costs associated with those unexpected repairs, but it's still important to mention this risk to the homeowner during the first consultation.
2. Choose the right roofing apps and software.
Job site efficiency starts at the office. To make the most of your time on and off the job, consider utilizing roofing apps. From tracking leads to scheduling appointments to even calculating roof measurements, there is a variety of roofing apps that allow you to accomplish project management tasks and house essential statistics and contact info in one spot. We dive into the details of just four of those apps in our article "4 of the Best Roofing Apps to Improve Your Roofing Business."
We also explore different roofing software providers that allow you to easily draft job estimates for potential roofing customers in "How to Bid a Roofing Job Pt 2: Roofing Software Providers."
Whether you're a one-man roofing business or a larger company with office staff and multiple crews, these types of tech tools help manage roofing projects and follow-ups more efficiently and effectively.
3. Use multipurpose roofing equipment.
In addition to digital technology, make sure you're using the right tools on the job. If there's one piece of equipment that can streamline multiple aspects of the roof replacement process, why invest in anything else? The multipurpose Equipter drivable dumpster handles the work of two crewmembers, powering through a full day every day and allowing your team more time to focus on production.
Roofing contractors like you use the Equipter to take the place of at least three different pieces of equipment:
Utility trailer - tow materials and tools to any job.
Debris container - catch old roofing materials in the Equipter's liftable container during the tear-off process, drive it all across the job, and dump it into a curbside dumpster.
Shingle lift - drive the dumpster into tight spaces and lift shingles, decking, underlayment, and tools to the roofline exactly where you need them.
If you need one for your next job, we work with over 250 equipment rental locations across the U.S. You can find the one closest to you with our Rental Locator Tool.
Always keep improving.
Whether your pipeline is bursting with opportunities or you're in a sales slump, always keep looking for ways to stay innovative and enhance your business process. Take a look at our collection of roofing resources for more recommended tools and techniques.