At Equipter, we've been helping businesses in various industries rise to the next level since 2003. The self-propelled RB4000 is our flagship model, bringing a debris management solution that increases efficiency and gets more jobs done. And now, it's easier than ever to rent the Equipter.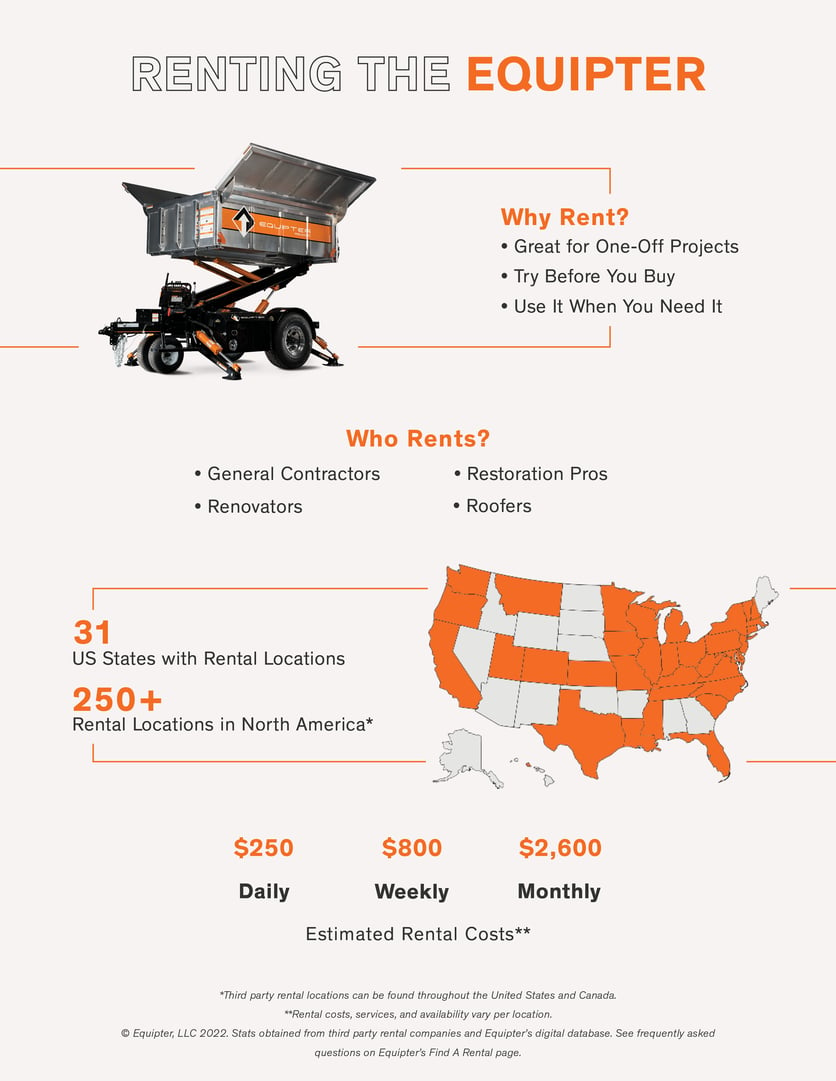 The RB4000's 12-foot lift reaches the second stories and roofs of residential homes and many commercial buildings. From there, your crew can load up to 4,000 pounds of debris into the container. It only takes one crew member to drive the RB4000 to an on-site dumpster after it's filled, lift it, and dump the trash.
Customers and homeowners love the RB4000 because they know their shrubs and flowers will be protected from debris. Being lightweight, the Equipter won't leave ruts in the yard and ensures a smooth process for you and your customers.
For your convenience, we've put together a simple infographic on renting the Equipter. We've also taken the time to explore your Equipter rental options further in this article, from why your company may want to rent it to the estimated costs of renting the RB4000.
Why rent the RB4000?

Get one-off projects done faster.
Renting the Equipter helps increase efficiency on one-off jobs. If you're a general contractor, you likely tackle various types of projects but may only need the RB4000 for a select few. Renting the Equipter for these specific one-off projects can help you save time and labor costs.
Roof replacements aren't often a specialty for general contractors. If you can relate, your crew may not be as efficient with setup and cleanup. Renting the RB4000 for the occasional roof replacement will help you and your crew rise above these challenges and get the job done faster.
If you're a restoration or renovation company, you know how time-consuming it can be to complete projects in the second story of a home or building. Not only that, it creates extra physical stress from hauling supplies and debris up and down inconvenient or narrow stairways and through a single door. One way to reduce stress and preserve manpower on these occasional jobs is to rent the Equipter.
With a self-propelled Equipter on the job, you get rid of debris more efficiently and streamline production. It's easy to park it and lift the portable dump container to a second-story access point. From there, throw debris directly into the RB4000's container–no struggling down the stairs. Then, just drive it to your on-site dumpster and dump the old materials and debris. And then, drive and lift the unit filled with the supplies you need right back to your access point.
Take advantage of renting the RB4000 for these jobs to raise efficiency, take care of your crew, and cut labor costs.
Even homeowners appreciate Equipter rentals. Whether it's to speed up a mulching project or to haul firewood to heat their home, this piece of equipment gets the job done efficiently.
Try the RB4000 before you buy it.
If you're a leader in your company, one of your goals is to make wise decisions and investments for your business. Using wisdom will not only help your company continue doing what they've been doing, but it will help them do it better.
Maybe you've considered purchasing the RB4000 but would like to make sure it's right for your company. Rent it to give it a try and help you make a well-informed decision.
Investing in a new piece of equipment may not currently be feasible for your company, whether that's due to getting hit hard by an economic downturn or having just started your own business. Consider renting the RB4000 for jobs where it's needed until a purchase is possible for you.
If you're still debating whether to purchase or rent, check out our article Buy or Rent the RB4000, which includes a quick reference guide to help you make the best decision for your business.
Use the self-propelled dump container when you need it.
In addition to the average one-off jobs, some people choose to use the Equipter RB4000 to haul materials from their local suppliers when supply delivery is on hold or delayed. This also eliminates the cost of delivery and driver tips and gives you the confidence in knowing your supplies will be where you need them exactly when you need them.
Who does the Equipter help?
General Contractors
General contractors find the RB4000 helpful for roofing projects or where a smoother debris management system is needed on the job. Using the RB4000 for these jobs ensures that customers' landscapes are protected, lessens physical stress on the crew, and raises productivity.
Renovators
As a renovator, you deal with tons of debris. Hauling drywall, crown molding, and more from a building to a dumpster clogging up the driveway can be physically exhausting. You also likely have stray debris that refuses to go into the dumpster as you haul everything over the first time, leaving a mess in the driveway. Using the RB4000 allows you to keep the dumpster at the curb, helps your workers save their backs, and gets the job done faster.
See how The Atkins Group uses the Equipter RB4000 for renovating apartments.
Restoration Professionals
The RB4000 helps fire and water restoration professionals find an easier way to get rid of wet drywall or damaged furniture. Taking debris from a building to the dumpster or lifting supplies to a second story has never been easier with the Equipter RB4000.
Roofers
Originally called the Roofer's Buggy, the RB4000 was specifically designed for roofers. This piece of equipment streamlines the debris removal process, saves crews from needing to haul materials up a ladder, and protects customers' landscapes from damage and debris.
Find an Equipter near you.
As of April 2022, there are over 250 third-party Equipter rental locations in North America. These are spread out across 42 US States and select locations in Canada.

Equipter's online rental locator tool allows you to find your closest Equipter rental location in just a few seconds. Each listing contains the company name, website, and physical address as well as contact info (phone number and email address). Click the button below to find the closest Equipter near you.



What is the cost of renting the Equipter?
The cost to rent the Equipter varies by location, and some Equipter rental businesses offer delivery and pick-up for your Equipter rental, saving you even more time on the job. Most equipment rental companies offer daily, weekly, and monthly rates.
Here are the estimated costs to rent the Equipter RB4000:
Daily: $250
Weekly: $800
Monthly: $2,600
At Equipter, we offer a $75 Manufacturer's Rental Rebate for first-time renters. Simply submit your receipt from the rental company to Equipter, and we'll send you a check for $75!*
Our online database contains over 250 Equipter rental locations, but there are a select few that are not listed. If you can't find a rental location, we'd love to help! Give us a call at 717-661-3591.



*See webpage for more information.
Article published April 22, 2020.
Article updated April 6, 2022.