A full-sized crane is a pricey, cumbersome overkill on many contracting projects. But just because you can't go big doesn't mean you can't go smart. A compact mobile crane may be the just contracting equipment investment you need to grow your business. Here's what a crane like the Equipter CR8400 can do for you, your crew, and your bottom line.
1. Causes less wear and tear on employees
One recent study found that overexertion and falls were the top two disabling injuries in the U.S. workforce. Construction workers are particularly vulnerable to those hazards; roofing, carpentry, and other trades take their tolls on the body, especially on the muscles, joints, and back. The CR8400 does the heavy lifting so crew members don't need to, saving wear and tear on the body and reducing the potential for injuries related to hoisting and navigating materials.
2. Reduces labor costs
Mobile cranes like the CR8400 streamline material handling, letting your crew do more work with fewer employees. In addition, investing in a crane helps avoid the double- and triple-handling material that can add hours to payroll.
3. Decreases time on the job
How much money could your contracting company save on each project if it could finish the job a few hours sooner? Using a compact crane gives you the ability to move heavy or cumbersome materials easily and precisely. This boosts productivity so employees get the job done faster—a surefire way to create happy customers who are willing to refer your business to friends and family.
4. Gives you the confidence to land more jobs
Equipter's self-propelled mobile crane is relatively lightweight and features wide tires, allowing a crew member to safely position it on lawns. It offers a tight turning radius as well, making it ideal contracting equipment for small to mid-sized job sites. What's more, the CR8400's maneuverability gives you the option to bid on projects with challenging worksites—jobs you may have been hesitant to bid on previously.
5. Easily tows and drives around the job site
Thanks to its drivability, the Equipter mobile crane attaches easier than a conventional trailer to a truck or utility van. Once you arrive at the job site, use the crane's gas-powered engine to drive it virtually anywhere on the property.
Whether you need to hoist shingles onto a roof or install a new HVAC unit, the compact, drivable CR8400 may be the contracting equipment you need to work smarter and revolutionize the way you do business.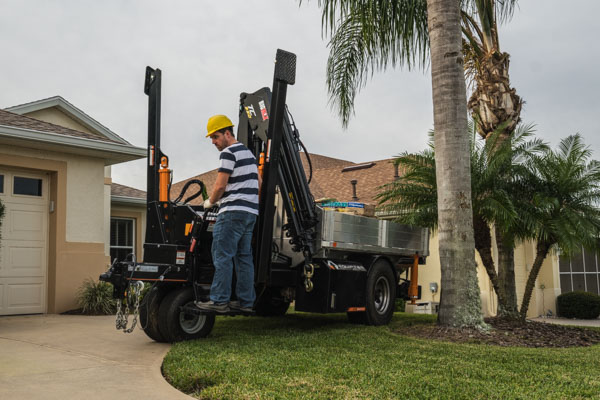 Get the free, no-nonsense business tips you need to grow your contracting company. Follow our conversations on Facebook or check out Equipter's Roofing & Contracting Blog. We share resources like How to Use Visual Content to Market Your Roofing Business and 26 HVAC Blog Ideas to Market Your Business.